This girly-girl ballerina onesie looks like it would take hours of handstitching to create, but it's actually pretty simple when you use rosette trim. Rachel from Bubbly Nature Creations shows how to do it.  She created the design to camouflage …
About Goodness shares a free pattern and tutorial for making a flat Gatsby-style cap.  The classic hat has never really gone out of fashion, but it's becoming even more popular lately.  You can make this a cold-weather or warm-weather hat …
Jessica from Me Sew Crazy shares a tutorial at Riley Blake's Cutting Corners blog showing how to make her Fall Into Ruffles jacket for little girls.  The lightweight jacket is made from two layers of quilting-weight cotton fabric, perfect for fall …
Astrid from Sew Sixties has created a blog to chronicle her adventures in sewing the vintage patterns that she loves.  If you've got an affinity for 1960s-ish patterns (and maybe more than a few stacked up waiting to be sewn), …
Mairuru shows how to make these adorable patchwork bags with square bottoms.  As with all of her projects, it's sewed entirely by hand!  Get the how-to.
[photo from Mairuru]
[tags]sewing, tutorial, square, cube, patchwork, bag, drawstring, pouch[/tags]…
Would you not love to wear this stunning RED Boreal Sweater on Christmas day or any of her FAB outfits?  I think her designs are just awesome and I hope you visit this young lady Shanah's blog "Little House …
Hi all, I am Linda the felting editor, I am doing the sewing column for a while until the editor applications can be sorted out and approved.  We did not want to miss the Holiday season and all the …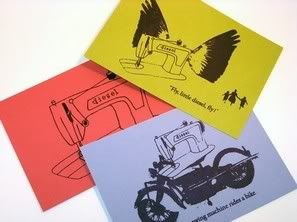 Maeg Yosef of Ranunculae is having a contest to inspire her. Come up with a new adventure for her trusty Diesel and you could win a custom tee shirt. Contest runs through 10/24.…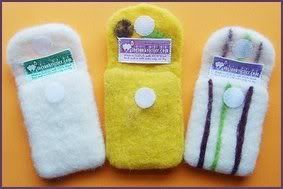 Linda the Craft Gossip Felting Editor had a great post about Labels for your handmade items. As someone who puts my labels on everything I make, adding your personal signature to anything you create is definitely a good thing!…
"Inchies"
Just when you thought you could toss out those teensy scraps, along comes a little idea to use them up. ("Waste not/Want not")
Cut your scraps into 1 ½" squares making sure you have a front and a back. …
Recycled Leftovers Part 2
Here are a few more ideas to clean out those closets.
Sweaters
·         Shrunken wool—Here's something you once may have cried about, but can now rejoice over. That expensive sweater you splurged on that could …
June has come and gone and now what to do with those luscious dresses swathed in plastic lurking in the back of every girl's closet? Here are a couple of great ideas to use up the fabric at least. Perhaps …
How far you do think Christmas is away? You may as well start making crafts now! You know you will be rushed on the 24th!
http://teddiesbylauralynn.com/free-patterns/patterns.html
Snowbear Pattern
This will make an 8 1/2″ tall Snowbear. Snowbear pg1
Snowbear pg2…
Lots of items to bid on here! Here is a link that was sent to me for fabric and notions to bid on. I now just have to stop looking there and start using my own stash! argh, too much …
 
I get together with friends and having to balance my iron on top of something as I try to get it home has always been a challenge. Of course, if I was organized, I would  stop sewing a few minutes earlier to  let …
keep looking »