Would you not love to wear this stunning RED Boreal Sweater on Christmas day or any of her FAB outfits?  I think her designs are just awesome and I hope you visit this young lady Shanah's blog "Little House …
Snow Folks Beanbags!  Who knew snow could have so much personality? These easy-sew beanbags will be happy to spread good cheer as stocking stuffers, ornaments, or package decorations.…
This little guy is capped, dressed in his plaid woollies and sweater, muffled up to his eyeballs and just waiting patiently for a winter snowstorm!
Designed by
Barbara Matthiessen
Whimsical little kitties to tuck here and
…
Hi all, I am Linda the felting editor, I am doing the sewing column for a while until the editor applications can be sorted out and approved.  We did not want to miss the Holiday season and all the …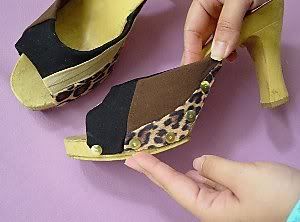 I adore shoes! I also love embellishing shoes. I was being featured on a show on the DIY Network and the topic was Weddings. As I'm always the dressmaker, never the bride, I thought why not create a fun project …
"Inchies"
Just when you thought you could toss out those teensy scraps, along comes a little idea to use them up. ("Waste not/Want not")
Cut your scraps into 1 ½" squares making sure you have a front and a back. …
Recycled Leftovers Part 2
Here are a few more ideas to clean out those closets.
Sweaters
·         Shrunken wool—Here's something you once may have cried about, but can now rejoice over. That expensive sweater you splurged on that could …
June has come and gone and now what to do with those luscious dresses swathed in plastic lurking in the back of every girl's closet? Here are a couple of great ideas to use up the fabric at least. Perhaps …
How far you do think Christmas is away? You may as well start making crafts now! You know you will be rushed on the 24th!
http://teddiesbylauralynn.com/free-patterns/patterns.html
Snowbear Pattern
This will make an 8 1/2″ tall Snowbear. Snowbear pg1
Snowbear pg2…
Lots of items to bid on here! Here is a link that was sent to me for fabric and notions to bid on. I now just have to stop looking there and start using my own stash! argh, too much …
 
I get together with friends and having to balance my iron on top of something as I try to get it home has always been a challenge. Of course, if I was organized, I would  stop sewing a few minutes earlier to  let …
These can be made for any size bottle you may have, just adjust the cutting size. Â 

Insulated Totes For Soda & Water Bottles
Debbie Colgrove
7/7/04

Bring your own beverage to parades and community events and keep them cold.

…
Child's Drawstring Backpack
This backpack is perfect for small kids to carry their things in. It has a drawstring opening that can be closed and the straps on the sides will hold the backpack securely on their bodies. This backpack …
Here's a free pattern to inspire you to get those sewing machines out, blow off the dust and create something wonderful to wear or give!
Special Offer
Free Pattern!
McCall's/Sew News
The Fashion Collection
Fall 2007
For a limited …
Let's face it, sewers are stashers! We love stuff, collect stuff and hoard stuff. However this can be a problem when it takes up more space than you have! I will share my ideas that have worked for me and …
keep looking »