Jun
6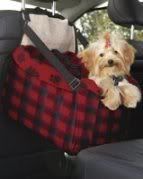 While scouring the web for a cool belt pattern, somehow I stumbled upon another cool project though is completely unrelated. The web reminds me of when you were a kid looking up a topic in your World Book encyclopedias and before you know you it, you've read about so many other topics, you almost forget what you were looking up originally!
So I started looking for a belt and ended up with this fab project for my puppy. Perfect for our summer road trip! Now, if only we could do something about gas prices.
By candi canncel
You may also like...
Comments